Accident, Injury, Criminal Defense, Real Estate Attorneys in Riverside, CA
Experienced attorneys in Riverside, CA, dedicated to helping injured individuals
For more than 25 years, Blomberg, Benson & Garett, Inc. has been the law firm of choice for thousands of our clients in the city of Riverside and surrounding communities in California's Inland Empire metropolitan area. Whatever injury-related legal challenge you are facing, you can rest assured that we will work hard to ensure the best possible outcome for your case.
Our attorneys understand the unique consequences surrounding each of the cases they handle, ensuring proper representation of every client. Whether you have suffered personal injury, a car accident, negligence in a medical procedure, slip and fall injury, or work-related injury, our legal team will make sure that you get the compensation you deserve.
We also specialize in representing the survivors of people who are killed in accidents. Our wrongful death lawyers recognize the pain and suffering our clients go through as a spouse, sibling, parent, or child, so our team is determined to bring the ones responsible for the death of these people's loved ones to justice.
Real estate law, criminal law, and administrative law specialists in Riverside, CA
Blomberg, Benson & Garett, Inc. is also prepared to handle the cases of clients who are facing challenges concerning their real estate properties or having problems with administrative agencies. Whether your case is against a real estate broker who has committed unlawful activity or a government agency, you can count on us to protect your interests. Furthermore, as a law firm dedicated to the presumption of innocence, our criminal defense attorneys also help accused individuals protect their rights throughout legal processes.
If you need legal advice, please contact us using this form or call us at 909-453-4370. When it comes to claiming what is due to you or defending your rights, your case cannot wait. Get in touch with our team today, and we'll be more than happy to assist you.
Learn about Riverside, CA

The city of Riverside is the county seat of Riverside County, one of the communities that make up the Inland Empire Metropolitan Area in California. Surrounded by small and large mountain regions, the Riverside proper is home to more than 314,000 people, a portion of the 1.5 million residents living within the metropolitan area.
The city was founded in the early 1870s and became the birthplace and center of California's orange industry, thanks to the pioneering efforts of Eliza Tibbets,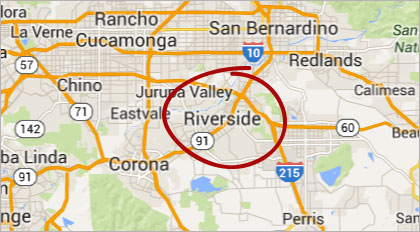 who planted the city's first three navel orange plants from Brazil. Only one of these trees survives to this day and is a protected landmark at the intersection of Magnolia and Arlington Avenues.
Riverside is a frequent movie and TV filming location due to its proximity to Hollywood. Other attractions include the University of California Riverside and its California Museum of Photography, the Riverside Fox Theater, the California Citrus State Historic Farm, the Riverside Art Museum, and the Mission Inn Hotel and Spa, a historic landmark built in the Mission Revival style.
Estimate Request from Riverside, CA
umesh p. on May 13, 2019 1:55:52pm
Hi there, I have this empty lot in City of Chino Hills, CA. this lot has Easement, that was abandoned in 1967 for Highway or Road purpose, but County reserved the right for Utility purpose. I am dealing with Southern California Edision (SCE) to get them to quit claim the right to use it as they have no facility in this easement and haven't used since 1967, area is already established with all utilities no more open land for any new development. All the other utilities like Gas company, Cable Company and City have no objection to quit claim, but SCE. What they are saying is they have 66 KVA transmission lines passing through the Easement in the neighbor's lot so they won't quit. If you see the Map I have attached, TP1 and TP2 are transmission poles and wire passing along these poles, their Lines are passing away from the my easement area, they already have 33 feet easement, access from street through ramp on side walk for their maintenance purpose. For 66 KVA transmission lines they need 25 feet easement, here they already have 33 feet. The easement on my side of lot is 33 feet, which is in addition to 33 feet they have under their infra structure. What I don't understand is how can they justify to keep this 33 feet easement on my side of the lot? Do I have case here to sue them and make them quit as over burdening the easement? What I heard is its not good idea to go against these giants, do I have any change or any standing here? Please respond. I really appreciate it.